SalesWarp eCommerce Management Software
Mission Control For eCommerce Management
SalesWarp eCommerce Management Software is a flexible, easy-to-use system that will help retailers accelerate top-line growth while improving bottom line profitability. SalesWarp gives you the tools to manage your operations more efficiently, including order, inventory, product, customer, purchasing and warehouse management tools. Through data consolidation and system integration, SalesWarp also delivers the intelligence you need to make better business decisions. And as the last system you will ever need to implement, SalesWarp will provide the IT scalability and performance needed to meet the demands of every stage of growth. All of this is delivered in a single, cloud-based platform, giving visibility to all parties involved in creating the omnichannel experience your customers expect.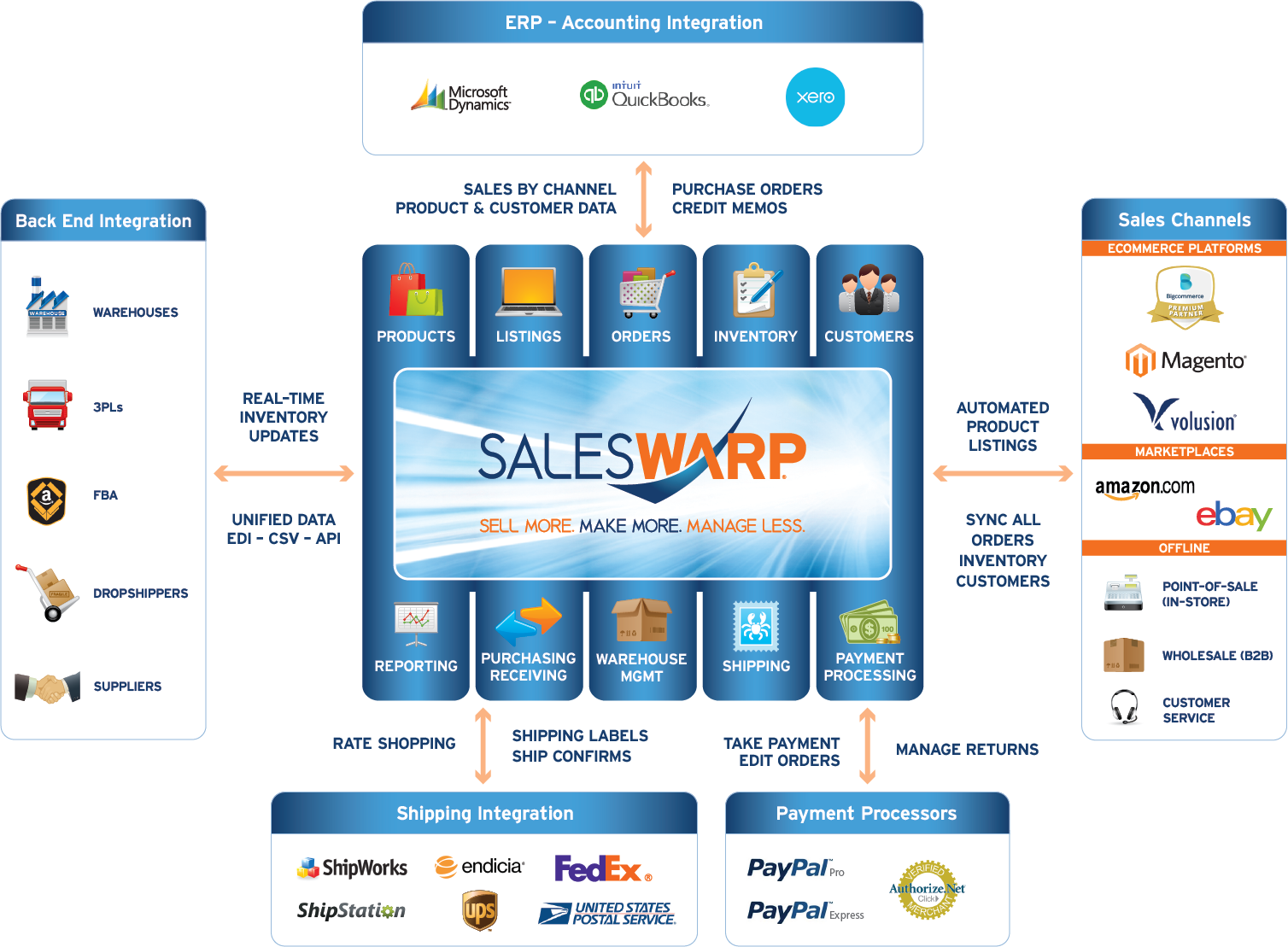 Highlights
Automated product listings (Add-On), inventory updates, order routing and fulfillment, shipping and customer management processes
Synchronized inventory, product, order and customer data across all channels and internal departments
Easy-to-use interface makes it easy for you to manage the fulfillment processes, attributes and more
Able to handle complex product catalogs with millions of SKUS, serialization, kits & configurable items
Web-based and accessible from anywhere
Real-time data visibility across your entire organization
Benefits
One source of "data truth" for consistency across sales channels & your organization
A significant reduction in operating costs
Increased business efficiency
Increased opportunities to scale and grow
Accelerated time to market
Advanced business intelligence for more effective decision-making
Ability to deliver a more unified & responsive customer experience
SalesWarp eCommerce Management Software is a perfect fit for multi-channel retailers with one or more of the following characteristics:
1. Selling or looking to sell on multiple channels: eCommerce platforms, online marketplaces
in-store, wholesale, call centers, POS systems.
2. Looking to create a seamless experience for customers across all channels.
3. Fulfilling orders from multiple locations and needing automated order routing.
4. Experiencing growing pains with their existing systems.
5. Need unlimited scalability in terms of products, order, inventory, and customer data.
6. Lack real-time visibility across front-end sales channels and back-end operations.
7. Have multiple data sets and need one central source of data.
8. Generating more than $5 million, with typical clients on SalesWarp ranging from
$20M – $100M+ annually.

For more information on how SalesWarp can streamline your retail operations contact one of our Commerce Consultants.