Elite Retailers
Distributed Order Management System for the Enterprise
Are you looking to deliver a true omnichannel experience? Are you trying to give your customers an endless aisle without implementing an expensive, slow-to-deploy ERP system? Retailers today face increasing competition in the marketplace, particularly when it comes to constantly evolving fulfillment options and don't have many options outside of enterprise ERP systems that struggle to keep pace with today's demanding consumers. Additionally, there are unprecedented opportunities for rapid and sustained growth. To capture these opportunities, retailers must be both agile and responsive to survive in this multi-channel environment. This is where a distributed order management system like Saleswarp can help retailers thrive.
Omnichannel
Although the term "omnichannel" is overused and at times, overhyped, there's no denying that the concept of providing a seamless, channel agnostic customer experience is a reality that's here to stay.
With the complexity of omnichannel processes, retailers need to fine-tune their overall strategies, and thoughtfully select a technology partner who can help them make omnichannel retail a reality.
That's where SalesWarp can help. SalesWarp's Distributed Order Management System is designed to intelligently manage every phase of the omnichannel process when it comes to things like orders, inventory, and fulfillment operations. When combined with its customization capabilities, SalesWarp Elite is an incredibly powerful Distributed Order Management solution that automates time-consuming tasks and eliminates errors in your business processes. And that means more sales, better margins, and happier customers.
Endless Aisle
About 10% of retail store sales are lost due to items being out of stock. Customers can quickly find another place to buy items. That means retailers must put in the work to never lose a sale to a competitor.
To combat this problem, forward-thinking retailers are turning to technology to make sure that they always seemingly have items "in-stock." They're leveraging what's commonly referred to "endless aisle" strategies.
According to Chain Store Age, brick-and-mortar stores "will add fewer new outlets as they take a "hub and spoke" approach, acting as pick up and fulfillment centers with the "endless aisle" concept extending shelf space to the brand's full catalogue of products."
Implementing an endless aisle program for retail isn't easy. The backbone of a successful omnichannel consumer experience is a distributed order management system. Retailers need a single source of real-time inventory data that serves all omnichannel consumer touch points.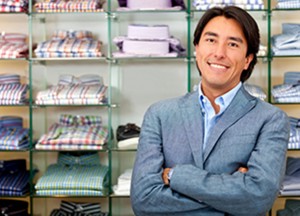 SalesWarp Elite provides complete, real-time visibility into customer orders, available inventory, and alternative fulfillment options, like in-store pickup. For customers, an "endless aisle" shopping experience ensures they can quickly and easily find and order the products they want — the way they want to shop — in-store or online.
Ship-from Store
Ship-from-store programs let online shoppers buy directly from store inventory. To execute a successful ship-from-store strategy, companies need to have a reliable distributed order management system in place that can see and report across all sales channels in real time. To offer endless aisle capabilities, retailers must know what stock is available and where with a high degree of accuracy.
Why provide ship-from-store capabilities? Improved delivery times, fewer out-of-stocks, decreased shipping costs for most customers, improved margins, reduced need to move/transfer inventory between locations, and increased ability to meet peak season online demand.
SalesWarp Elite
SalesWarp Elite helps you determine the right amount of inventory to keep on-hand, allowing you to track sales and analyze your performance over time. With a high-performance distributed order management system like SalesWarp, inventory and order updates can automatically be published back to all sales channels. SalesWarp helps retailers streamline their business processes, decrease shipping expenses, optimize cash flow, and ultimately, improve the customer experience.
In-Store Pickup
In-store pickup is a new way for consumers to shop with an ecommerce retailer. For certain items, a customer can place an order online and pick it up at a nearby store.
Customers love the convenience and choice, and not paying shipping fees. Once they're in the door, you have even more opportunities to expand the customer experience and the size of their order.
SalesWarp's In-Store Fulfillment software streamlines the entire process with an intuitive user interface your store associates can use to easily pick orders and create positive pickup experiences for customers.
Are You Ready To Make Omnichannel A Reality?
Providing a seamless and relevant shopping experience to consumers is no longer an option for retailers. Successful omnichannel programs will belong to agile sellers that have a 360-degree view of their customers.
With fast deployment, we can help you confidently go from idea to implementation in making omnichannel retail a reality. SalesWarp Elite delivers the market's most flexible and robust distributed order management system for ensuring overall high customer satisfaction with searching, ordering, and receiving products — when and how they want, every time.
Benefits include:
• Seamless Omnichannel Capabilities
• Automated & Custom Order Routing
• Multi-Channel Inventory Sync
• Batch & Wave Picking with Barcodes
• In-Store Fulfillment & Pickup Applications
To learn more about SalesWarp's distributed order management solution, call us or request a demo today!
Supported Features
With SalesWarp ELITE, you get every feature you can imagine, or at least the ones you need. You can also start with what's available in SalesWarp ADVANTAGE (listed below) and customize one or more features. Either way, it's fine with us.
Multi-Channel Order Management
In-Store Interface
Automated & Custom Order Routing
Automated & Custom Workflows
Customer Service Tools
Real-Time Inventory Check
Simple, Configurable, Kit & Serialized Product Management
Automated Inventory & Shipping Updates
Multi-Channel Inventory Sync
Advanced Batch or Wave Picking with Barcode Scanners
Warehouse KPI Tracking
Put Away
Returns, Refunds & Exchanges
Enroute Integration
Product Location Manager
POS & ERP Integration
UPS, USPS, FedEx Rate Shopping
Product Listing to Magento, Amazon, eBay
Pricing
We will work with you to provide a customized quote based on your unique requirements. Call us at 410.276.4600 to speak to one of our Omnichannel experts, or email sales@SalesWarp.com for more information. Don't forget to ask us how we helped Zumiez integrate online with nearly 600 stores AND implement a new Warehouse Management System with SalesWarp ELITE.
What Our Clients Say
We wanted an order and fulfillment solution that focused on putting the customer experience first, and SalesWarp has exceeded our expectations. We could not be more impressed with their technical team's ability to seamlessly integrate our key systems and to do so in such a short period of time. – Zumiez
SalesWarp is super simple for my staff to use and fantastic search and filter functions that save time and effort when managing thousands or orders and sku's across multiple marketplaces. – Thanks Mama
Within the first year of implementing SalesWarp, our eCommerce sales grew 300% because we processed more orders - across more channels - and fulfilled those orders faster! – S&S Sports
I would highly recommend SalesWarp if you are looking to automate your order fulfillment processes, improve your product catalog functionality, and need a central hub for your multi-channel business.
- Del Mar Fans
Since deploying SalesWarp, BillyTheTree has realized a 33% reduction in labor costs related to inventory management. Additionally, we are saving at least one hour each day on our purchase order process. - BillyTheTree
Not only has SalesWarp been a very stable system but it continues to evolve and become more and more innovative with every release. - ANS Xtreme Performance