Superior Customer Experience
Struggling to provide a seamless and superior shopping experience? Consolidate customer data from all sales channels in order to provide superior customer service while engaging customers at every touch point.
Expose More Inventory For Sale
Limiting your sales due to lack of real-time inventory data? Expose more inventory for sale, while preventing over and underselling with real-time inventory data across multiple channels (ecommerce stores, store fronts, warehouses, marketplaces.)
Reduce System Costs & Complexity
Too many systems and processes to manage? By consolidating systems and automating key processes, retailers can speed up order processes, and decrease errors and costs.
Fast & Efficient Fulfillment & Shipping
Unable to meet customer shipping expectations? Easily split orders to fulfill from different locations, print packing slips & shipping labels, set automated shipping rules, automatically send tracking info, and more.
Today's customers demand a consistent, convenient, and personalized shopping experience across all channels and all devices. To provide this, it's vital for retailers to have consolidated systems, real-time data, and automated processes.
SalesWarp's Omnichannel Solution equips retailers with the tools they need for perpetual evolution, by transitioning disparate systems to a fully unified system that improves the customer experience, leverages asset utilization, and enhances business operations.
Superior Customer Experience
With SalesWarp, retailers can improve the customer experience with integrated customer service tools and better data visibility.
SalesWarp's Omnichannel solution provides a 360-degree view of every customer across every channel, taking customer service to a whole new level. From detailed order information, to managing returns and exchanges, to creating custom email communications. SalesWarp enables consistent and reliable customer service that builds loyal relationships and repeat business.
Expose More Inventory For Sale
Don't disappoint your customers with stock-outs. SalesWarp's real-time order and inventory management allows retailers to sell more products on more channels — their store locations and ecommerce stores, while also enabling shoppers to make purchases on their mobile devices — without having to worry about over or underselling inventory.
Reduce System Costs and Complexity
Optimize time-to-fulfillment by consolidating and automating data and key processes. SalesWarp stitches together your current systems, so you don't have to. Not only does this save you time and money, but it also decreases errors caused by manual processing.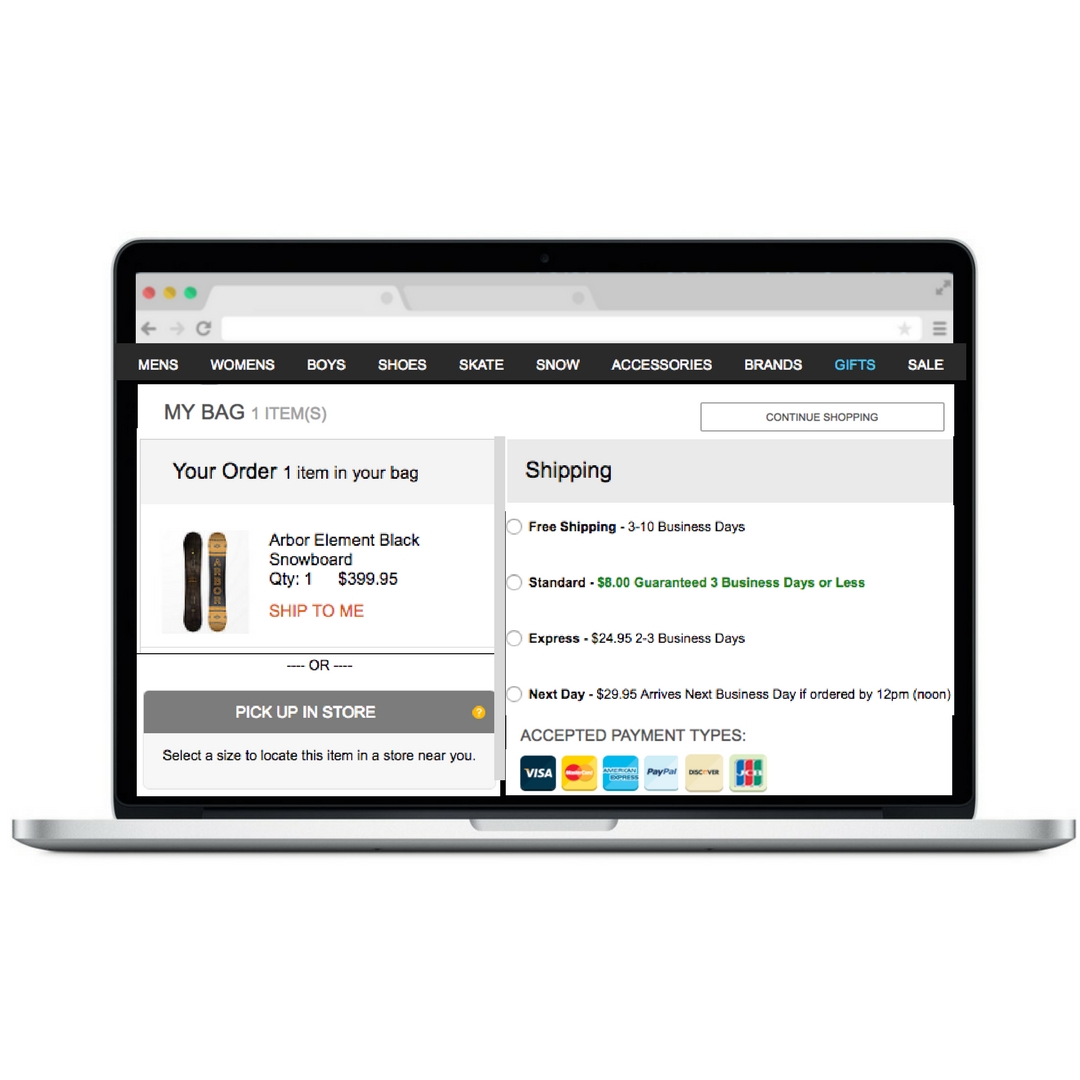 Fast & Efficient Fulfillment & Shipping
Provide the visibility and flexibility that shoppers have come to expect. With SalesWarp's integrated In-Store Fulfillment software, retailers can provide online customers the flexible service they demand, with access to store inventory and the option to buy online and pick up in-store (BOPIS), or have the product delivered.
SalesWarp's advanced order, inventory, and warehouse management capabilities allow retailers to enhance fulfillment options and improve delivery times.
What Our Clients Say
SalesWarp delivered a powerful, distributed order management system, warehouse management system, customer service system, and in-store fulfillment application in just six months from design start. With SalesWarp's Omnichannel Solution, we were able to have a tremendous amount of influence and control over the final user experience, allowing us to target key usability and brand goals within our 600+ store locations. - Zumiez
Within the first year of implementing SalesWarp, our eCommerce sales grew 300% because we were able to process more orders across more channels and fulfill them faster. – S&S Sports
I would highly recommend SalesWarp if you are looking to automate your order fulfillment processes, improve your product catalog functionality, and need a central hub for your multi-channel business. - Del Mar Fans
Since deploying SalesWarp, BillyTheTree has realized a 33% reduction in labor costs related to inventory management. Additionally, we are saving at least one hour each day on our purchase order process. - BillyTheTree
Not only has SalesWarp been a very stable system but it continues to evolve and become more and more innovative with every release. - ANS Xtreme Performance