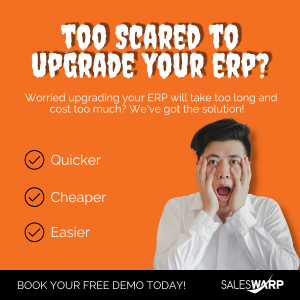 SalesWarp Order Management can help.
Schedule A Free Demo Today!
SalesWarp enables business growth by ensuring best practices in Order Management, Fulfillment optimization, Warehousing and pick-pack-ship processes. Ultimately increasing sales, reducing operational expenses, and improving the customer experience.
Schedule your free demo with our specialists to help you determine if SalesWarp is a good fit for your business.
With SalesWarp's Advanced Order Management System You Can:
Manage channels (Magento, Shopify, BigCommerce), wholesale, B2B, omnichannel/bopis, trade/EDI and more
Manage marketplaces like Amazon Sellercentral, Ebay, Wayfair, Houzz, Overstock
Simplify accounting, taxes, shipping, customer service, business processes and workflows
Automate order management, real-time inventory, fulfillment and customer notices
Grow confidently with modern order management and warehouse solutions that fit your business
Some Of Our Happy Clients
SalesWarp delivered a powerful, distributed order management system, warehouse management system, customer service system, and in-store fulfillment application in just six months from design start. With SalesWarp's software, we were able to have a tremendous amount of influence and control over the final user experience, allowing us to target key usability and brand goals within our 600+ store locations. - Zumiez
Within the first year of implementing SalesWarp, our eCommerce sales grew 300% because we were able to process more orders across more channels and fulfill them faster. – S&S Sports
I would highly recommend SalesWarp if you are looking to automate your order fulfillment processes, improve your product catalog functionality, and need a central hub for your multi-channel business.
- Del Mar Fans
Since deploying SalesWarp, BillyTheTree has realized a 33% reduction in labor costs related to inventory management. Additionally, we are saving at least one hour each day on our purchase order process. - BillyTheTree
Not only has SalesWarp been a very stable system but it continues to evolve and become more and more innovative with every release. - ANS Xtreme Performance