How Online Retailers Can Differentiate & Grow With Cause Marketing
Social media has launched a revolutionary way to advertise and personally connect with thousands of customers. With Twitter, Facebook, and Pinterest now becoming a standard outlet for retailers online to expand their presence, the first-movers to social media no longer stand out and others are just becoming part of the background noise. So how do you get recognized now that people are less likely to follow brands on Facebook and tweets can go unnoticed? The Answer: Cause Marketing. It has become a new way for corporations and nonprofits to achieve community impact and significant bottom-line results.
True, it takes a bit more planning and resources than simply updating a status or pinning an image but cause marketing will establish your brand's identity as well as significantly set you apart from your competitors. Committing your E-commerce business to a good cause will deliver tremendous benefits. Not only will your customers choose you because they have a desire for your product but also because you are giving them an opportunity to give back. Voila! You have just created a positive shopping experience which in turn will increase your customer retention rate. You will feel good knowing you have this goal and the support to make a difference.
The support of your customers will establish customer loyalty and build new relationships. When a customer sees that you are promoting a charity, it is likely they will share this with their friends. Customers on the fence about purchasing your product will also be more inclined to buy now instead of taking their time, considering it, and possibly forgetting about you and your product. A study from Alloy Media states that nearly 95 percent of students say they are less likely to ignore an ad that promotes a brand's partnership with a cause.
A cause marketing campaign should stem from what you believe in as a person and, more importantly, as a company. Many companies have failed to integrate the principles of the cause into their business plan. The campaign should relate to your products and strengthen your company ideals. Credibility and transparency is the key to customer receptivity for your campaign. Be open and straight-forward about how the customer and the company is benefiting the cause. The last thing you want your company to be perceived as is a crass opportunist. And perhaps the most important factor to consider is to ensure this cause matters to your target customers. When the chosen cause matters, customers will respond and media and social networks will begin to buzz.
The following are great examples that should be recognized.
TOMS. "Giving is what fuels us. Giving is our future." is the motto behind TOMS One for One program. With every shoe pair or glasses purchased, TOMS works together with Shoe and Vision Giving Partners around the world to deliver a respective pair to children and adults in impoverished communities. The customer is involved from the moment he/she purchases the product. TOMS also grants select customers the opportunity to deliver the shoes to the children. This incredible, emotional experience connects the brand to something much larger than just shoes.

Innovative cause marketing is at its best with the phone and web application, TangoTab. Highlighting the fact that world hunger affects 1 out of 6 people in North America, TangoTab aims to feed a local person in need every time diners redeem an offer at a participating restaurant. The application allows restaurants to advertise a deal, such as "buy one entree get one free" to diners in the area. So what makes this marketing technique so unique?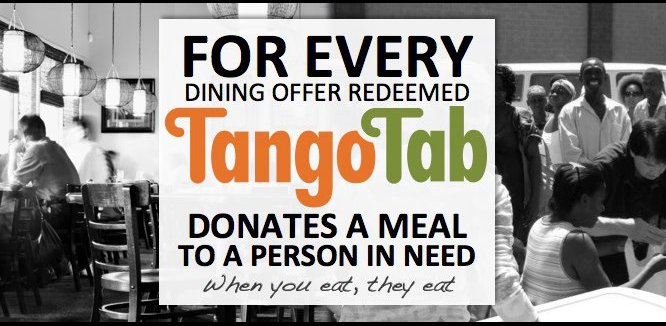 The timing and the quantity of deals available is at the discretion of the restaurant, risk free. The restaurant raises awareness, controls when the deal is redeemed, and pays a small success fee only when TangoTab delivers results. (Other daily deal sites typically charge restaurants up to 75% for offers that can't be updated in real time and may not deliver any traffic.) In turn, the customer conveniently finds and receives great deals using the free service. This growing network of restaurants and diners enables TangoTab to donate 20% of its top-line revenues to local food banks and hunger-related charities. With North Americans dining out, on average, up to 1,000,000,000 times a week, TangoTab's social, local, and mobile marketing solution can significantly make a difference.
Chocomize, the first custom chocolate bar manufacturer in the United States, uses a unique marketing strategy that involves spending no money! At Chocomize, they are all about options. Not only can customers choose from 30 billion chocolate bar combinations, but Chocomize also allows customers to choose the charity they would like to support with their purchase.The company is built upon a socially conscious platform, donating 1% from each chocolate bar purchase to 1 of 3 charities. Chocomize then shares their story with media and social outlets and any one that will listen in order to gain public awareness. They have been mentioned in O, The Oprah Magazine, BusinessWeek, NYTimes, CNN.com, USA Today, Wall Street Journal and other premier sources of exposure. After a short four months from start up, Chocomize was profitable and has since proven that their strategy works.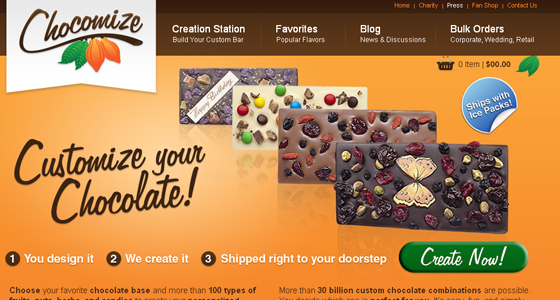 As you can see above, there are many options for differentiating and growing your online store with cause marketing strategies. Let us know what approach you are taking to become a more socially conscious E-commerce business!
– Janna Skinner