What marketplaces should you sell on? Amazon, eBay, Rakuten, Sears, Newegg Best Buy
Although customers may perceive all the different online marketplaces (ranging from Amazon to eBay) as the same, they appear to be quite different from the perspective of the retailer. Each site has its own audience and niche, but even more importantly, its own specific requirements and specifications that retailers must meet in order to list their products.
Including these required elements helps the marketplace better categorize a retailer's offerings, which in turn improves the likelihood that customers will find the listing when searching for a product. Below, retailers will find some of the most popular marketplaces available to sell on today and the key differences and obstacles to expect before signing up.
eBay
eBay is an online auction and shopping website where people and businesses buy and sell a broad variety of goods and services worldwide. eBay's new fees on shipping costs have caused many retailers to think twice before selling on eBay.
eBay offers retailers a number of different ways to specify which items they're offering to customers. These range from very general descriptors, such as brand name, color, type, material, size and style, but also include more specific indicators such as UPC codes and ISBN numbers.
Although it may seem like customers wouldn't search for items by UPC code or some of these other specifics, there are cases in which they may do so. For example, if customers are in store and want to find out how much an item sells for on eBay, they could use their smartphones to take a picture of the UPC barcode and then search for it on the marketplace.
eBay also has highly specific image requirements that must be met before listing an item for sale. All photos must be at least 500 pixels long, while best practices would suggest pictures be even larger to allow possible buyers to zoom in and inspect the product.
Amazon
The Amazon.com marketplace attracts millions of active buying customers, not just browsers. Amazon has now expanded their retail websites internationally to the United States, United Kingdom, France, Canada, Germany, Italy, Spain, Australia, Brazil, Japan, China, India and Mexico. Amazon also offers international shipping to certain additional countries for some of its products. Millions of buying customers attract thousands of sellers, making Amazon one of the toughest marketplaces for competition between sellers.
One of the key differentiators of Amazon is the addition of search terms to the item listing. Retailers can add specific terms to the title to improve Amazon search engine results. This can present sellers with another opportunity to reach pertinent shoppers by including keywords that might not be featured in the product description or other areas of the listing.
Although Amazon listings don't require an image, the marketplace actively suppresses any listings without an image from search and browse bars. Amazon is also strict with image requirements, enforcing retailers to accurately represent the product in the images provided or risk being suspended. Amazon requires each product to have a UPC code, which could be a drawback for some sellers who have vintage or older products that do not carry one.
Rakuten Shopping.com
Japanese retail giant Rakuten purchased the U.S. eCommerce site Buy.com, and then rebranded it as the online marketplace Rakuten.com Shopping. Rakuten.com Shopping is similar to Amazon in that it has one product catalog, and retailers compete against other sellers by selling their own SKUs. If a product is not listed in the Rakuten Shopping.com product catalog, sellers can submit a request to add it to the database.
Rakuten Shopping.com serves over 12 million buyers, many of which are avid online shoppers. The product catalog includes several categories, with an emphasis on Electronics, Home & Outdoor, Health & Beauty, Sporting Goods and Jewelry. One of the ways Rakuten Shopping.com seeks to strengthen the relationship between buyer and seller is through custom product pages that allow the seller to provide additional images, information and videos about the product.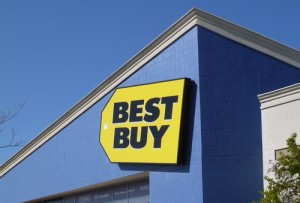 Best Buy Marketplace
Best Buy launched a third-party marketplace in 2011 as a way to augment their existing product catalog. While it's more difficult to become a seller on the Best Buy Marketplace, the benefits are well worth the effort. Best Buy takes submissions from third-party sellers and grants access based on the seller's product catalog and whether or not it complements the existing Best Buy catalog of mostly consumer electronics products. Sellers on the Best Buy Marketplace take advantage of the benefit of having their own products listed alongside those on the main Best Buy website, thus granting access to a loyal and active customer base.
Sears Marketplace
The Sears Marketplace offers a wider variety of product categories and of course carries the trustworthy Sears brand name. Items sold by third party retailers are listed alongside the rest of the Sears catalog and for that reason the Sears Marketplace requires extensive product information, attributes and images to complete a product listing. Much like Amazon, Sears provides the option of fulfillment services. The seller simply sends their products to a Sears fulfillment center and they take care of the rest. One of the added benefits of selling on the Sears Marketplace is that customers can access your products from kiosks located in Sears stores.
Newegg
Newegg is a large online marketplace known for consumer electronics and computer accessories. With Newegg, sellers have the benefit of selling to niche markets, but with that comes certain responsibilities. Like Best Buy, Newegg screens new sellers and requires them to provide excellent customer service. If a seller does not ship an order within 72 hours, Newegg reserves the right to cancel the order. One benefit that Newegg sellers enjoy is commission rates significantly lower than other marketplaces such as Amazon.
Leverage an eCommerce solution to shore up marketplace listings
eCommerce solutions with direct integrations to these marketplaces can help merchants create more listings, reduce time to market, sell on more channels, and ultimately increase sales. The right eCommerce solution will also increase the visibility of products and inventory sold on all marketplaces, provide insight into which products are selling on which channels, and inform the retailer when a listing gets rejected.
Whether it's eBay, Amazon or any other Web-based marketplace, these sales avenues are an excellent opportunity for merchants to start their business or continue to grow their business online. Software like SalesWarp supports eBay, Amazon, Newegg, Best Buy, Rakuten, and Sears, as well as leading shopping carts, allowing a retailer to expand without the added expense of deploying a team big enough to manage multiple listings, multi channel orders, inventory updates, or cross-channel customer service.