Reach 14 Million Buyers With Wayfair

Wayfair – A Viable Marketplace?  And How Can SalesWarp Help Wayfair Sellers?
Over the past decade, consumers have changed the way they want to shop and merchants are trying to keep up. Shoppers fluidly search, compare, and buy from online stores, marketplaces, mobile apps, physical stores, and social platforms. As innovative technology aids their journey, consumers are looking for remarkable experiences across these digital and physical touch points with brands. Whether you are looking to expand your brick-and-mortar business or just starting, e-commerce selling has many advantages as a long-term strategy to win over customers.
As a retailer, getting the best-selling platform is your priority. Finding the right one for your products ensures that you capitalize on increased online sales. And if your products were made to beautify houses, Wayfair is the perfect place for you. Wayfair is an e-commerce platform, just like Amazon, but with a unique specialization – furniture and home goods. Wayfair was one of the top 10 ranked US companies with leading e-commerce sales in 2020, amounting to 9.42 billion USD, partnering with more than 11,000 global suppliers to supply more than 14 million products. Wayfair services Canada, the United States, and the United Kingdom, attracting a vast number of potential buyers and giving sellers a global platform to scale their revenues and profits. Still not convinced? Let's further study the platform and see why it will be the best thing to ever happen to your business.
Large customer base
Wayfair is the best place for consumers to find any home goods they might need. In 2020 alone, Wayfair had an active customer base of over 31 million- 50% more than the year prior. This allows you access to an established customer base willing to buy products from a platform they trust. Wayfair also makes a  great effort to advertise the platform, spending 50% of their total revenue to promote sellers' products.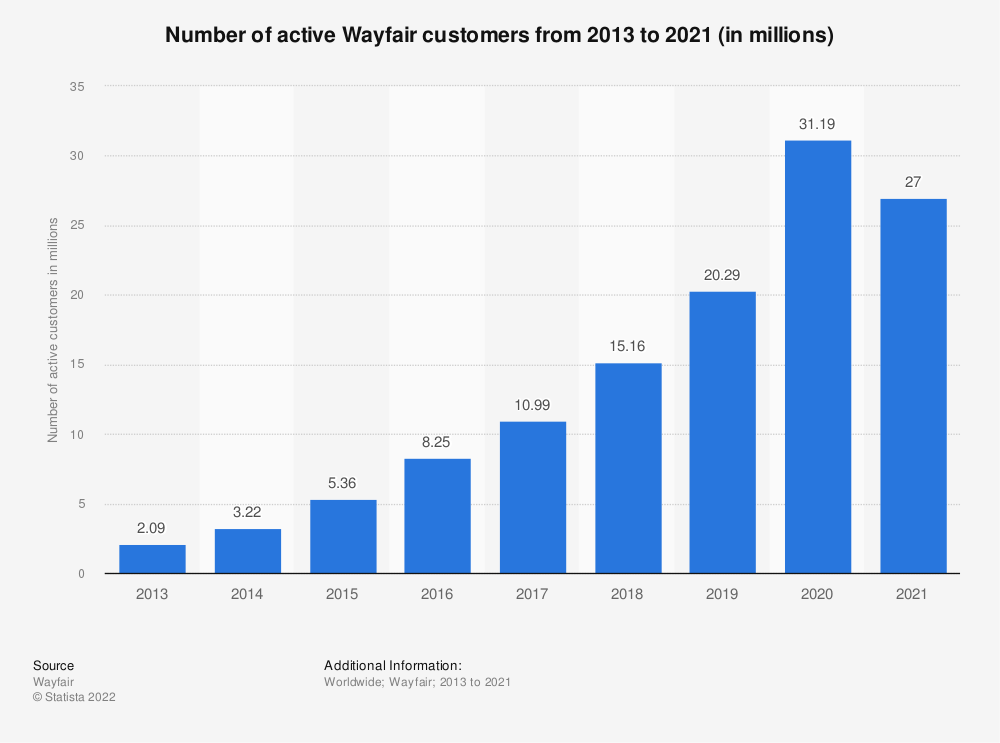 *Source: Statista- 2022
2. Cost and Fees
There is zero cost to be a Wayfair partner! Most e-commerce platforms will take a percentage out of your order as a transaction fee, but Wayfair doesn't. Wayfair operates on a wholesale cost model, meaning they will set a higher retail price on their site and pay you the wholesale price of your products. Moreover, Wayfair does not charge any kind of inventory expenses. You can conveniently opt for white labeling of your goods to get a higher rate of profit by using Wayfair and its third-party integration extensions.
2. Real-time Updates
The Wayfair system provides retailers with data and analytics. Wayfair data keeps track of consumer behavior, providing a real-time view of the demand for products. This automated feature allows retailers to obtain current customer trends and predict future demands to adjust their offerings accordingly. By learning about these opportunities, retailers can fulfill the demands of the customers with the right product offerings which in turn makes customers more likely to buy from them in the future.
3. Massive Logistic Networks
The shipping capabilities and high-performance logistics at Wayfair have turned it into a leading e-commerce company in the home category. This allows retailers to sell on Wayfair and deliver products directly from manufacturers to consumers. This method of direct fulfillment is cost-effective and time-efficient, allowing Wayfair to gain a significant market share. The continuous development of the Wayfair distribution network allows retailers to make more profit by reducing logistic costs.
4. Ease of Selling
Wayfair's most promising feature is its easy seller panel. Its professional and insightful design is easy to navigate and serves as an online business assistant. This intuitive panel helps to ease your business operations and easily manage growth.
With the benefits mentioned above, selling on an e-commerce marketplace like Wayfair sounds like a lucrative perspective. But with a monumental decision like this, retailers will surely wonder about the challenges they may face when integrating their business with a platform of Wayfair's magnitude. It's natural to wonder about the technical challenges in listing your products on the platform along with meeting the customer's expectations of having an effective omnichannel experience or even wondering if any technical glitches on the platform may lead to customer abandonment entirely. Plus, what could be the overall cost of this entire process? This is where an effective and efficient Operating Management System like that of SalesWarp may help overcome most of the retailers' woes.  Let's understand how…
SalesWarp will provide a seamless integration to help retailers reduce operational costs:
SalesWarp has partnered with Wayfair to help sellers integrate their order management. Listing products on marketplaces is effortless when using an Order Management System (OMS) like SalesWarp. After the system has logged in to inventory and is up to date with product information, you can upload your offerings across all marketplaces in real-time. If product information, pricing, or features change, your OMS can easily communicate those updates across all selling channels. When invoicing comes into play, OMS is equipped to handle it! For instance, if payment for a Wayfair order is complete, you as a supplier need to send an invoice to the marketplace. OMS will have a view of all shipments and payments and can create invoices in real-time as orders are shipped. No manual paperwork or processes are required, making it less hassle for you.
A complete view of the inventory:
Once listings are live on these marketplaces, it's imperative that you have a complete view of your inventory and up-to-date product data, including stock availability, locations, and descriptions. You don't want to under or oversell, but overselling is what poses complications while listing on the marketplaces. Once a customer places an order for your product on a marketplace, you're committed to fulfilling that order. When you are unable to fulfill orders on time, as promised, or even at all, you are failing to meet customer service levels (CSL) of the marketplace. The poor customer experience then reflects negatively on both you and the marketplace. This can be avoided with an OMS. Similarly, to avoid underselling or marketing items "out of stock" an OMS can be programmed to periodically provide an Available to Promise (ATP) report to the marketplaces you are selling on. because you're ATP changes when someone buys your product, your available stock needs to reflect the same. Your OMS can track incoming shipments, so even when your product is out of stock, marketplaces can still take your product orders and adjust the promise of availability. Additionally, an OMS helps retailers maintain revenue growth. By fulfilling shipments based on location and lowest shipping prices, an OMS can reduce the cost of fulfillment and increase profits
An exemplary customer experience:
Inventory visibility is imperative to meet your SLA, but it's also necessary to provide an enhanced customer experience. An ONS integrates with marketplaces to provide real-time order statuses once your product has been shipped. That way, customers can receive shipping confirmations and order updates at every step of the fulfillment process. Returns and exchanges are very important to the customer experience. By integrating an OMS on the backend, you can create a seamless return and exchange experience for your customers. A Robust OMS can ensure your fulfillment process meets customer requirements and continues both your brands and market places pattern of exceptional customer experience. Consistent customer experience drives loyalty.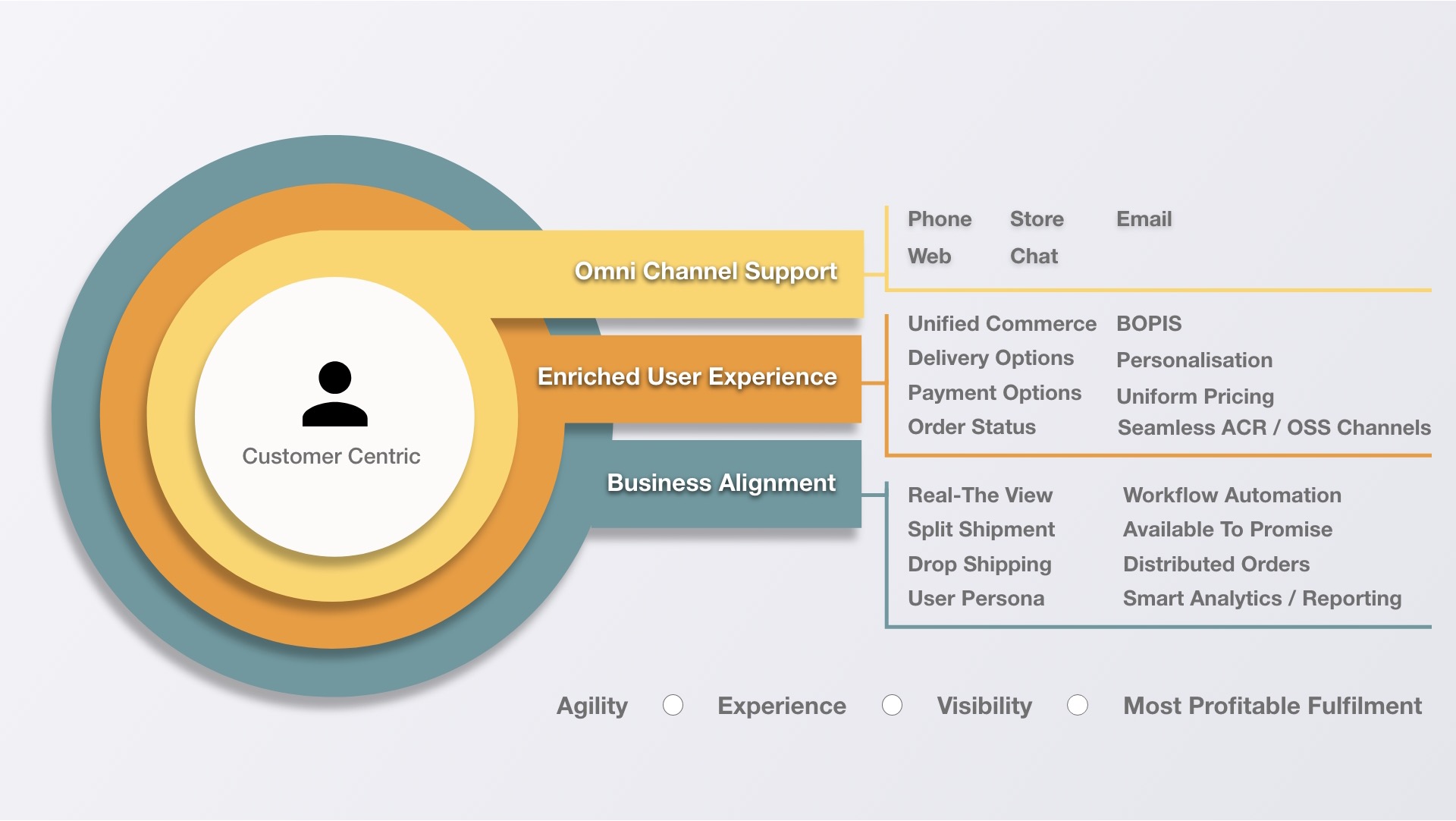 Expanding to offer your products on marketplaces like Wayfair, is a great way to grow your revenue channel and your brand value. But to ensure success, businesses need to have a clear inventory view and provide a good customer experience. An Order management system helps e-commerce businesses scale up, by automating repetitive work, syncing your customer data across platforms, and giving you clear details about current inventory levels and sale performances across channels. With a SalesWarp OMS system, you may not only overcome these challenges, but also successfully find what makes your customers tick, and offer them an online shopping experience they'll remember and return for more.