Every Chain Needs a Master Link: Using An eBay Connector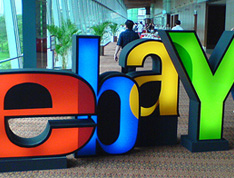 In my previous blogs I talked about selling on online marketplaces and managing multiple channels . In this blog I am going to focus on eBay and how easy it is to manage with a storefront management system like SalesWarp.
Whether your managing a shopping cart of online marketplace like eBay, using a manual process to publish your products is not very efficient and is really only manageable with small product sets. Eventually the rigors of manually entering product sets will create systematical errors and, in some cases, even cause your operations to fail. This is one of the main reasons retailers limit their catalog size on sites like eBay or, in many cases, don't even bother to sell on these types of channels.
To cope with these challenges, retailers need to automate this process by using a storefront management system like SalesWarp that has an eBay connector that simplifies and automates inventory management and the publishing of products to any auction and/or listing template. Features like automated inventory help to control overselling, cancellations and late shipments by setting thresholds. Once inventory levels drop below these thresholds, products will be removed from your eBay store as well as from all of your other channels, automatically. This is return, will reallocate the time and resources used to manually enter inventory counts across one or multiple eBay storefronts.
Aspiring mid-to-large sized companies often work towards gaining accessibility into the international market. With a platform that occupies 37 countries and counting, eBay is a great option for growing your market reach. Gaining entry into these specified international markets provides companies with a competitive advantage by getting products to market first and expanding their customer base. Always choose an E-commerce solution that gives you the most opportunities to spread brand awareness.
Furthermore, WYSIWYG editors offer an interface that allows for customization of your description and listing templates. Typically the average business owner doesn't have the coding knowledge to create a visually appealing storefront. With WYSIWYG, all page administrators are capable of editing a template without having to memorize complicated layout commands. Finding software like SalesWarp that features WYSIWYG will give you control of front-end development and create opportunities to customize your landing pages at any given time.
To learn about other marketplaces that SalesWarp supports call (410-276-4600) or schedule a demo today!