SalesWarp & QSSI partner to deliver for Fortune Top 10 Online Retailer
The SalesWarp team is proud to announce our latest partnership with leading warehouse management innovator, QSSI. Our companies have completed a joint implementation for a Fortune Top 10 Online Retailer and have proven that our products and services can exceed the expectations of the largest enterprise companies. This partnership combines the power of SalesWarp's OMS+ (Order Management Solution +) with QSSI's PowerHouse WMS (Warehouse Management Solution) for any B2B, wholesale or retail environment.
SalesWarp OMS+ manages business operations across a wide range of users and tasks. Covering key operations from pre-sale to final delivery and support. OMS+ provides 360-degree management of your sales, inventory, operations, and customer service. OMS+ also includes SalesWarp's patent-pending workflow engine that automates connections and business processes.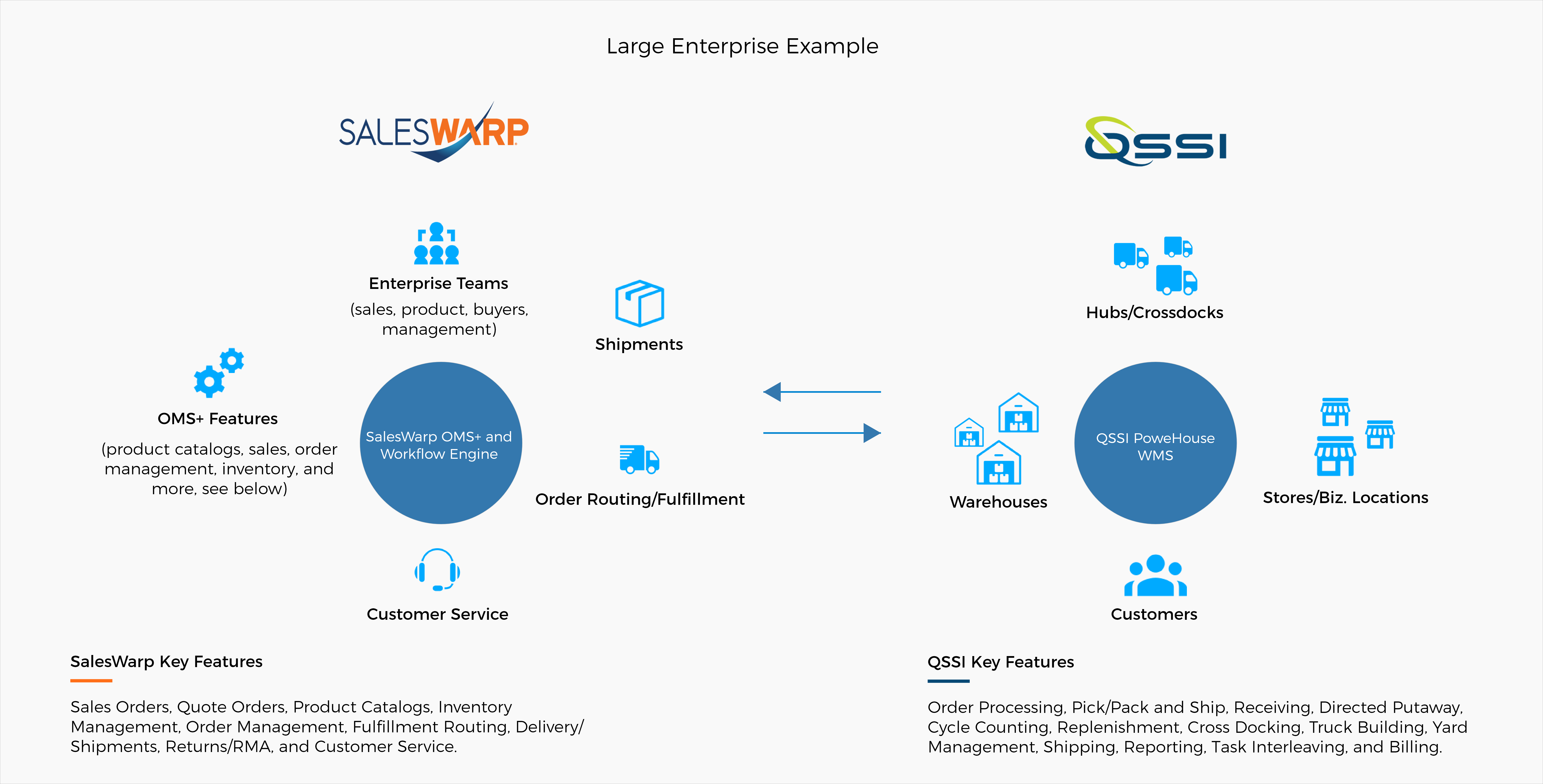 QSSI's PowerHouse WMS, lets retailers take control of their warehouse with a scalable and robust warehouse solution. PowerHouse WMS features a complete solution including receiving, task interleaving, billing, truck building, cycle counting, replenishment, cross-docking, truck building, yard management, shipping, reporting and much more. The SalesWarp and QSSI partnership will allow retailers to efficiently manage their orders and warehouse operations for any sales channel, so retailers can focus on expansion.
For over 30 years, QSSI has reshaped the retail landscape with advanced warehouse management tools which have served hundreds of clients in different industries. QSSI's products are proven to drastically reduce costs and improve delivery times. Housed under their main PowerHouse WMS software is their transportation management software, PowerHouse TMS, which supports all carriers plus domestic and international destinations.
Since 2012, SalesWarp has provided businesses with a powerful order management and business workflow solutions proven to increase sales and customer satisfaction. The OMS+ series is the only solution built to connect your legacy system or latest cloud service providers; making your next project faster, more flexible and cost-effective.
Together, QSSI and SalesWarp create a powerful commerce and operations solution that can manage each business operation at the highest efficiency. From order processing to delivery, your customers and business will benefit from a seamless order fulfillment process. QSSI and SalesWarp will manage your company's complex environment in less time, providing you and your organization more time to focus on growing your business.
If you're using SalesWarp, it's simple to automate your warehouse operations with QSSI. Contact a Product Expert and learn how QSSI and SalesWarp can help boost your warehouse productivity and increase sales.
Icons by Icons8