Selling on Multiple Marketplaces: What are you waiting for?!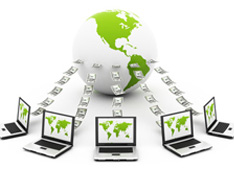 Today, making it in the E-commerce industry is all about out-marketing and outselling the competition. Many businesses share similar shopping cart solutions including Magento, Shopify, Prestashop, Volusion, ZenCart, and osCommerce. While some of these shopping carts offer the latest technology and marketing tools, the fact that your competitors can have the same solution often prevents either company from gaining a competitive edge.
Now, you may sit back and ask yourself, "How do I set my business apart? How do I reach more customers to outsell my competitors?"  Well, creating a unique brand and/or advertising campaign are the usual answers, but that can be expensive and not so easy to quantify. A more defined approach and one that you can easily track and measure against is selling your products on online marketplaces like eBay, Amazon, Sears and Newegg to name a few. This will not only increase sales and generate new customers, but expands your overall market reach.
To begin this process you must first select what marketplace(s) you want to sell on. Look at your customer demographics, what they are buying from you and identify what marketplace(s) they are buying on most frequently. The next step is to find a storefront management system that gives you the power to manage multiple stores, including your branded shopping cart and these new marketplaces like Ebay, Amazon, Buy.com, Sears and more.
This is where SalesWarp comes in! With its intelligent Multichannel Management tool, our clients are able to manage and consolidate all of their products, orders and suppliers, as well as create product-specific pricing and marketing campaigns each of their online stores. This in return, helps them get to market faster with more targeted product and pricing intelligence.
What I want to do next is talk about how easy it is to manage an eBay store through SalesWarp. The eBay Connector has many intuitive features that give clients a full-cycle product offering. Compatible with Ebay's Worldwide Marketplace, businesses will have access to a storefront in 37 different countries with an active customer base of 233 million. Additionally, this connector consists of automated inventory controls and has a WYSIWYG editor for both description and listing templates.
So before your company takes a leap of faith into uncharted waters, make sure you do the research! If you need help getting through this process, don't hesitate to Call (410-276-4600) or Email one of our E-commerce experts today.