Fix Stock Outs / OOS – What Fleeing Customers Are Telling You
5 Tips On How To Fix Stock Outs / OOS (Out-Of-Stock).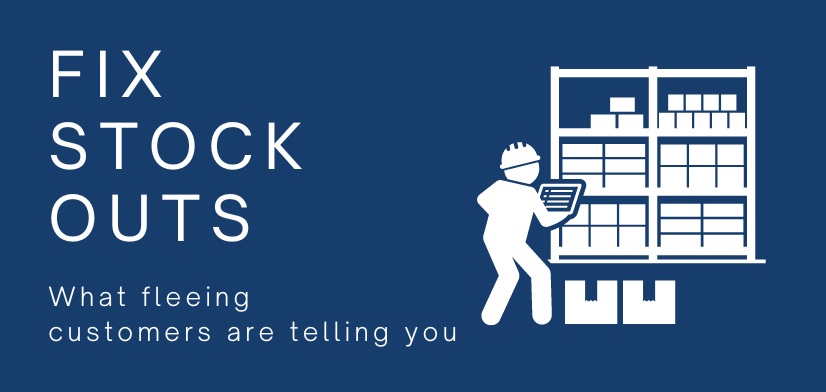 First, what is OOS (out-of-stock), also known as stock outs? OOS is what customers encounter when they are ready to purchase a particular product, only to find, its unavailable to purchase or out-of-stock. Even though the product was advertised in-stock and available for purchase, the order cannot be filled from existing inventory. It is estimated that over 70% of online buyers will quickly shop elsewhere if a product isn't available, than wait for it to be restocked. With so many buying options, buyers no longer have to accept not finding exactly what they want, when they want it. In addition to lost revenue, OOS has negative impacts on brand loyalty and product rankings. Yes, OOS will cause your product rankings to drop and reduce in-person and online traffic. Add to that the risk of potential customers posting negative comments on your product and business pages which could adversely affect future sales.
Let's be honest can you really afford to lose any more customers due to stock outs? OOS can be prevented and if you listen, former and potential customers are telling you how to fix it:
Get Rid Of Your Blind Spots
You need real-time inventory visibility across all sales channels; without it you can't develop intelligent reorder strategies or take advantage of automation. How can you accurately list and promote items online or in-store that buyers want when you don't have up-to-the minute accurate inventory data?
Replenish Your Stock Ahead Of Time
Transition to an automated replenishment system. Find one that will account for supply and demand, all channel and store sales, minimum stock requirements, available-to-promise, fulfillment locations, deliveries, promotions, upsells, forecasting and seasonality. Keep buyers coming back for more.
Stop Disappointing Your Customers
Protect your business and your customers from OOS with safety stock inventory. Order and set aside a guarded amount of inventory, in the event of unexpected demand spikes or inaccurate forecasting, doing so can serve as a shield during longer fulfillment times.
Provide A Consistent Buying Experience Across All Your Sales Channels
If you're selling on multiple channels, connect all platforms on a centralized system, integrating data from all your sales channels with an automated operations and inventory management system, will make it easier to decrease out-of-stock occurrences, build brand loyalty and drive buyers to your sales channels vs. buying from your competitors.
Transform Your Brand – Automate Your Order and Inventory Processes
40% of businesses cite accurate inventory management as one of their biggest challenges. Annually businesses worldwide lose more than $1T in revenue due to poor inventory management. It is impossible for any business to have a full understanding of the state of their inventory or accurately forecast without real-time views, tracking, up-to-the minute data and automated processes for both orders and inventory. Also centralizing ordering processes with real-time capabilities will assist with replenishment, order edits and reviews, manage and share stock analytics across stores, sales channels, and teams. Cloud-based, real time order and inventory management software allows a business to meet customer demands by setting automated reorder points. If you want to seriously compete for more sales, more customers and better product ranking, manage and maintain right-size inventory, you must consider automating your inventory and order management processes.
The chances of buyers seeing a product "out-of-stock" notice and waiting around for your business to restock are very unlikely. They will happily buy the same item from your competitor. How can you address this? Listen to what your customers are telling you and implement powerful cloud based, real-time automated order and inventory management solutions that will consistently decrease out of stock instances, improve product rankings and help meet customer demands.